Supercharger
The TVS™ supercharger's patented design features twin four-lobe rotors with 160-degree twists and high-flow inlet and outlet ports that greatly enhance thermal efficiency, deliver higher volumetric capacity and enable higher operating speeds. The TVS™ supercharger is capable of running with a high thermal efficiency (up to 76 percent) across a wider operating range. The higher helix angle of the rotors coupled with redesigned inlet and outlet ports, improves the air-handling characteristics without increasing the overall size of the unit.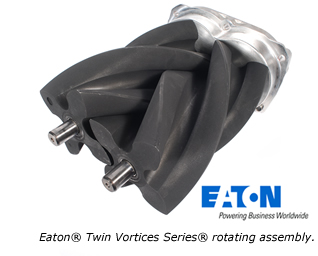 The TVS™ improved noise and vibration characteristics eliminate additional noise-reduction treatments, complexity and system cost. Additionally, the supercharger incorporates a bypass system to reduce air handling losses when boost is not required, resulting in better fuel economy.

---
There are no products to list in this category.