Service & Repairs
Supercharger Maintenance & Repair Services
We pride ourselves on providing the highest level of customer service, an essential part of this is supporting customers beyond the initial sale. A key initiative for past customers is our Supercharger service and repair program. All repairs are completed at Harrop HQ by our highly skilled technicians entrusted to assemble Harrop OEM Superchargers for manufacturers such as Lotus and Ford.
Whether a major or minor rebuild is required the first step is to contact our sales team and to organise a time for the Supercharger to be inspected, we charge a minimum inspection fee of $165 Including G.S.T. which covers the labour to disassemble and thoroughly inspect the Supercharger. This step is fundamental as it will allow our team to provide an accurate cost for the repairs and/or replacement of damaged components which allows you to make the right decision on the job.
We have the ability and expertise to repair any make of Supercharger providing they utilise an Eaton rotating group, so no matter the brand give us a call to see if we can help you get your engine back on track.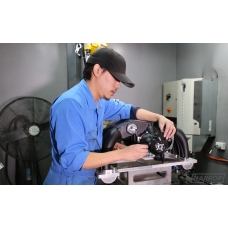 If you think you may have an issue with your supercharger assembly the first step is to click on the..
Showing 1 to 1 of 1 (1 Pages)