HSV GEN-F GTS
CHAPTERS: STAGE 1, 2 & 3 LSA PERFORMANCE SYSTEMS HARROP LSA TVS2650 SUPERCHARGER KIT
There aren't many examples of a HSV Gen-F GTS with a more extensive upgrade history than Dave's 2013 manual model. This vehicle has featured prominently in the development program at Harrop over the past 4 years as we continue to design and engineer performance for the LSA platform.

---
STAGE 1, 2 & 3 LSA PERFORMANCE SYSTEMS
Posted on 12th January 2018 at 8:36am
We were fortunate to kick off our R&D development program in mid-2013 when we had brief access to a press LSA GTS prior to the vehicle being on sale. Once released our R&D program accelerated when Dave dropped his new white manual GTS off fresh from the Dealership. At the beginning, this car from the factory made 359kw or 481hp and 506 ft lbs torque at the hubs measured on our in-house Dynapack Dynamometer. Like our popular LS3 based performance systems, we set about developing a range of stage upgrades that could include driveline warranty.

You can learn more about each of these stages at the following link -
https://www.harrop.com.au/shop/automotive-performance/performance-systems/hsv-gen-f-f2-lsa
Following extensive validation of the now popular Stage 1, 2 & 3 LSA Systems the car progressed with pushing the performance envelope to find the limit of the stock LSA engine and factory fitted TVS1900 blower and beyond.
---
HARROP LSA TVS2650 SUPERCHARGER KIT
Posted on 12th January 2018 at 8:37am
After several variations and comprehensive engine and fuel upgrades, the GTS now makes an impressive 607kW and 1091Nm at the hubs.

The video below provides insight into the upgrade journey this early model Gen-F GTS, as well as a comparison of performance results across a variety of hardware combinations over 4 years. Our great customer Dave's goals for increased performance started with finding the limits of the stock LSA and continued with our Stage 5 LSA Package, followed by a built 416ci long motor and competitor 2.9L supercharger through to our more efficient TVS2650 Supercharger in late 2017.

Check out the video below to see the upgrades and performance journey on this GTS we know as AGRO-VF .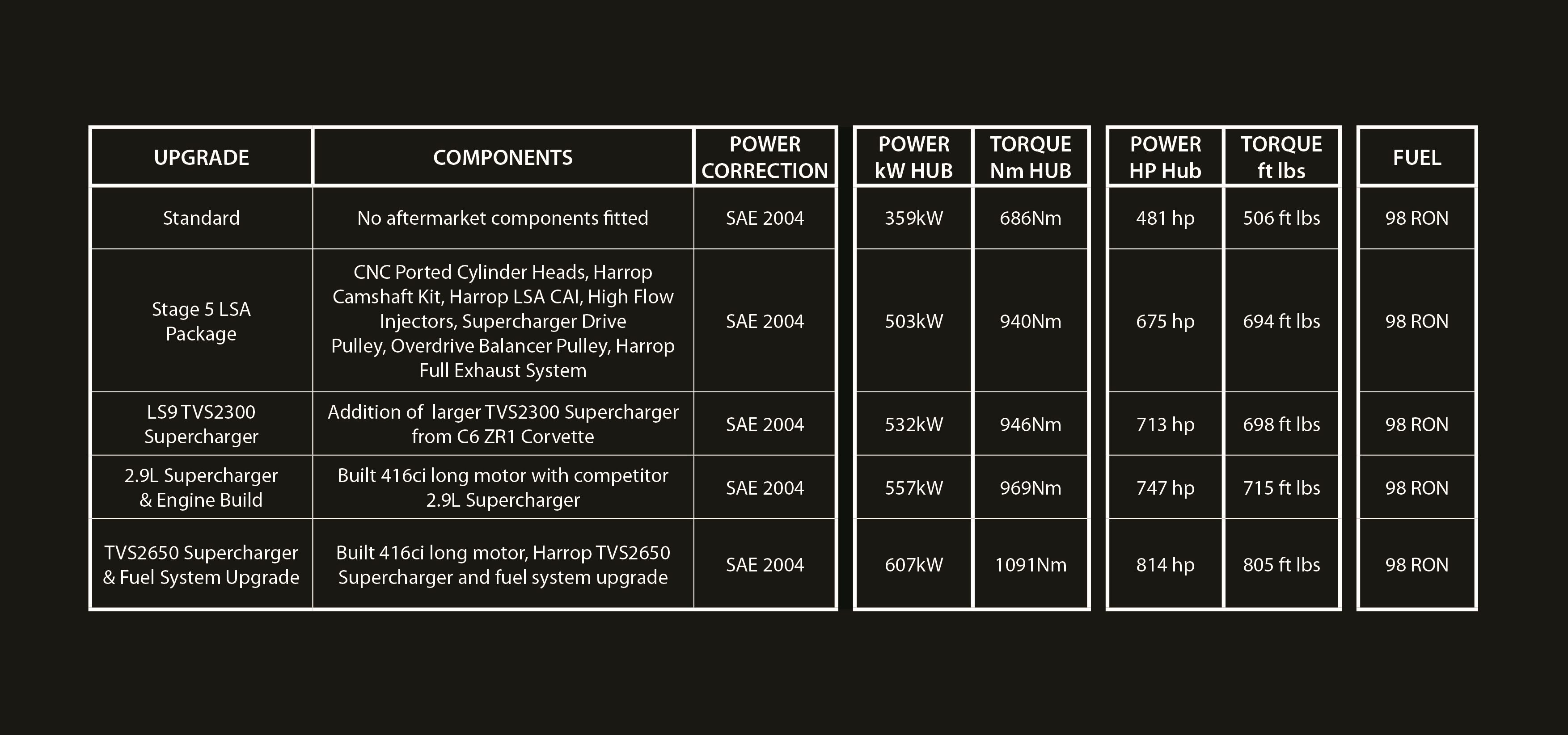 ---