HARROP CASTING TECHNOLOGIES - CAPABILITIES
---
Posted on 26th March 2021 at 12:11pm
---
Harrop Casting Technologies specialise in non-ferrous castings, where all aluminium products are in-house heat-treated and shot-peened. Harrop CT can also produce brass, copper and magnesium products for a variety of applications.


Local Fabrication Services
Harrop Casting Technologies is based in Adelaide, which means you reap all the added benefits of working with a local Australian business. Import costs, customs clearance, shipping delays and difficulties communicating with overseas suppliers are avoided. Additionally, for repeat supply using existing tooling and moulds, Harrop CT can produce your parts with significantly faster lead times (as little as a week) which makes a huge difference when parts are needed urgently.

Casting Capabilities
While Harrop CT specialises in aluminium castings, its abilities also extend to brass, copper and magnesium products. The company is quality accredited to ISO9001:2015, which covers all aspects of operation, manufacturing and distribution. Their range of parts include:
Housings

Brackets

Supports Covers

Pipes

Tanks

Manifolds

Engine Parts

Electric Motor Housings

Street & Park Furniture

Components for Rolling Stock
Not Just Automotive
Cast products and components are produced for a wide variety of industries from marine, military, industrial, aviation, manufacturing and engineering. Whether your cast part is only a few hundred grams or over a hundred kilograms, Harrop CT can provide it in either part-finished or fully-finished condition depending on the requirement. All steps in the process are available, comprising:
Pattern making/tooling

Moulding

Melting and pouring

Heat treatments

Post cast finishing
Harrop CT can also quote on production from your existing tooling or moulds. Our technical team will provide expert advice and assistance about optimal manufacturing and cost efficiency. Talk to one of our helpful staff to find out more.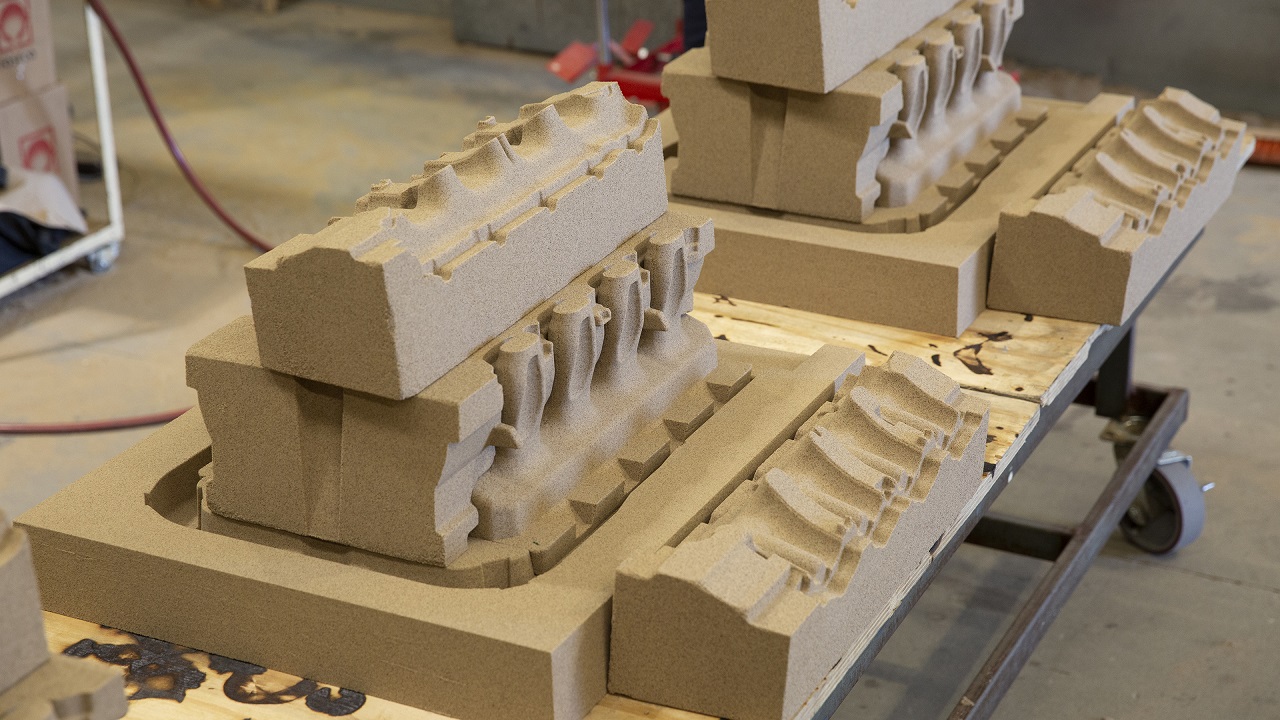 Casting Methods
Some typical casting methods Harrop CT utilises are Gravity Die Casting, Sand Casting, Core Blowing and Shell Cores.
Gravity Die Casting uses permanent steel moulds with gravity filling for larger volume production runs. It is optimal for complex castings.

Sand Casting is better applied to lower volume production where die tooling costs cannot be justified. Sand moulds are created and bonded together using composites. Upon assembly the moulds are gravity filled and the sand is broken out after solidification.
Both Core Blowing and Shell Cores include resin covered sand to create a mould and is an expendable mould casting. In comparison to Sand Casting, it boasts better dimensional accuracy and higher productivity rates.
Additional production processes:
Heat treatment – solution heat treatment to T6 and ageing

Impregnation processes are available in-house to customers requiring pressure tightness and leak resistance in critical castings such as pumps and tanks

Metrology is performed throughout the manufacturing process and includes an ARL Spectrograph

Technical support for tooling/pattern design including gating, runners and raisers
For more information on our casting processes or services please contact Harrop Casting Technologies on (08) 8262 7666 or via email -
[email protected]
.
---
RELATED ARTICLES